Monday, May 19, 2008

Monday, May 19, 2008
"
しゃがれた声で明日を呼ぶ, 傷だらけの手で君守る /
With a hoarse voice, I call upon tomorrow
With hands covered in wounds, I'll protect you"
Upon finishing evangelion, I suddenly felt the urge to punch that damn director for taking away 40 minutes of my life by tricking me into watching the last two episodes of that series(Which contains 90% flashback and 9% talking and 1 % violence and gore). The ending is the one that pisses me more than ever. Lolwut? Ikari shinji saying " I have finally realized the reason for my existence" and the crowd claps and that marks the official ending for that. Codswallop, That is the best word i can find to describe that ending. If i could, I would gather a pleaid of angry otakus to rebel against that director and vehemently wack him until he decides to make a season 2 to that series.(Don't ask me why it is a pleaid of otakus....It just seems like a nice number to me).
Also, Some random singaporean idol guy called paul twohill came to my school 3 days ago.Pictars r teh below.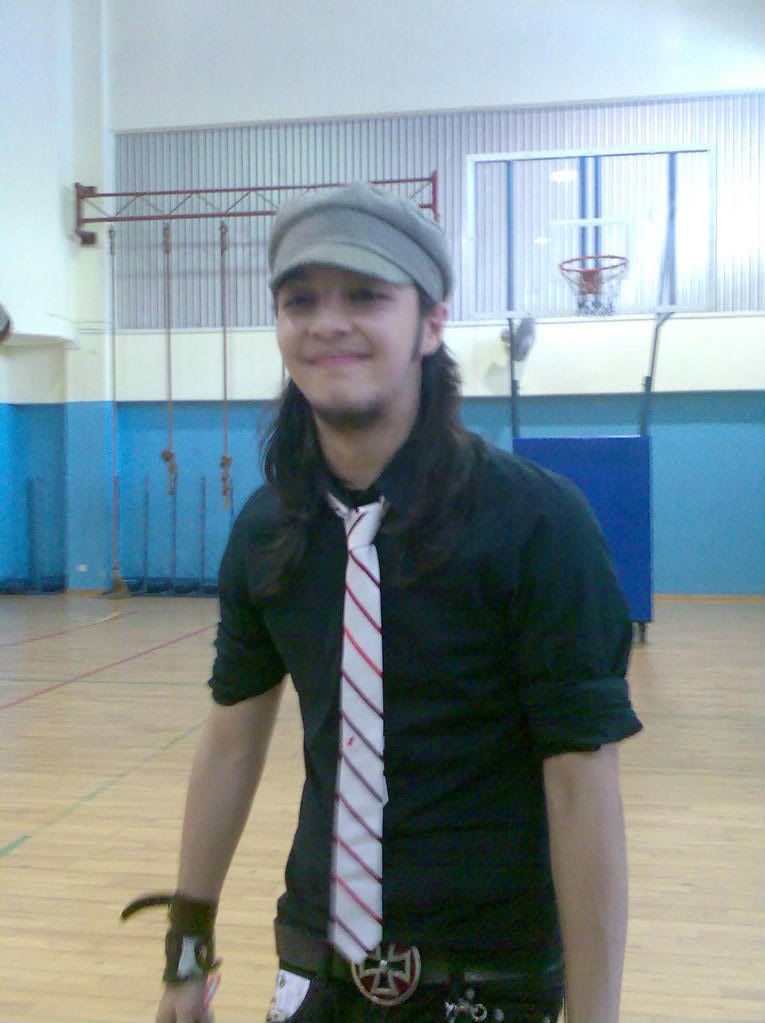 Coupled with this, I have also been tagged by veron the moe goddess to do this quiz. (below)
1) At what age do you wish to propose?
- 17 and above
2) Who is more important to you?
- Nagato and my studies (especially japanese and english). -ω-
3) Who is the person you don't trust most?
- Those that i don't talk to often.

4) ARE U CONFIDENT?
- WHEN I AM HIGH!

5) If you can have a dream come true, what would it be?
- Earn a 5 digit salary and pwn jlpt 1 completely.

6) who are the people whom you hang out with?
- schoolmates?
7) who do you enjoy going out with?
- Anyone who is sociable.

8) WHAT IS LOVE??
- Love is to understand and see what your partner can't see in himself/herself.
9) What is like?
- A more pathetic version of love, Usually sweeter and less hurtful than love.

10) if you have a bf or gf, when do you like him or her most? for example is it kissing, hugging and etc.
- Classified information.

11) which country would you intend to go to next?
- Japan.ALLTHOSELOLISANDMANGAANDCOSPLAYPICTARSATCOMIKETAREBELONGTOME
12) What if you saw your girlfriend on a date with another guy?
- I would win her back.
13) Do you cherish every single friendship of yours?
- Definitely.

14) What do you think is the most important thing in your life?
- Japanese and reason to exist

15) what is your favourite word to use?
- What is your favourite word to use?
16) what do you do when you are bored?
- Photoshop, chat, anime

17) WHICH PART OF THE PAST YOU WANT TO LET IT COME AGAIN??
- I wanna resit for my PSLE.

18) What's on your mind now?
- WHY IS KAGUYA SO LOLI!!!!111oneone

19) What are you listening to now?
- Sousei no aquarion
世界の始まりの日、
On the day the world begin,
命の木の下で
、
beneath the tree of life,
鯨達の声
の遠い残響 二人で聞いた~~
We two heard the distant echoes of the whales' voices~~

20) What do you want to be when you grow up?
- Independent with my own steady career.
1 Comments